My Brooklyn started for our family back around the 1860's. My paternal great grandfather, Charles John Wilson SR. came here from Norway. Our family name was Olsen but he changed it to Wilson when he arrived. He jumped ship in Brooklyn so I imagine as an illegal alien, he thought best to change names. He met and married Catherine Reinhardt, also from Brooklyn and they were married somewhere around 1864. They must have gotten along very well as they had twelve children

Out of this union, and all these children, only three lines were formed. Their son Charles married Matilda Herting. You saw them on the Charles 2 page.

Next, their daughter Annie married Albert Herting, seen sitting together on the bench below.
Albert's father, also named Albert, came from Germany about 1859.

Click to go to Herting - Keck Page
Herting/Keck


He married Amelia Keck and both father and son were Brooklyn Barbers! The Herting line is still alive and well. Albert's sister was Matilda who married my grandfather Charles Wilson. Both couples were married on the same day (Oct 8, 1886) at York Street M.E. Church in Brooklyn, NY.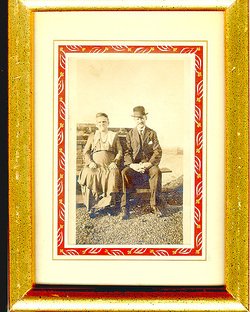 Below is the next to youngest sister of Charles, Martha aka Mary or Mazy Wilson Lake.
Mary married William Lake on Apr 16 1899. Tragically, only about two months later on 28 Jun 1899 as he was returning home from work, he was killed in an accident as he drove his bicycle.
There were no children from their marriage.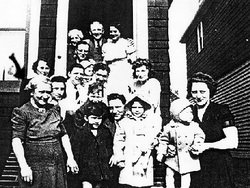 Finally their youngest daughter, Ida Louise, married Vincent Lezak. This is part of the Lezak line started by Vinnie Lezak and Ida Louise Wilson. Vincent was found drowned by the docks in Brooklyn, N.Y. It was speculated that he fell in after having a heart attack. It was said that he used to walk by the docks often. The Lezaks are also all over the Country.

Dear Ida is shown here enjoying the sun, She was a regular member of the Hanson Place Baptist Church in Brooklyn.She passed away on 22 Dec 1967. She is buried in the Family plot at Greenwood Cemetery.



This is the news paper clipping when they were searching for Vincent Lezak


My Old Brooklyn, Charles and Matilda Herting